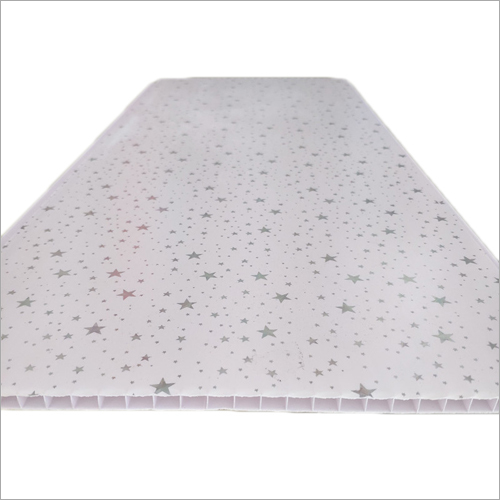 Product Description
250 MM Silver Star Pattern Wall Panel that we bring forth is ideal for wall decoration of commercial as well as residential buildings. This kind of wall panel doesn't get degraded and rotten for years by termites, insects, mold, scratch, moisture, chemicals and other damaging factors. It is absolutely washable, easy to cut, nailed, drilled and riveted, due to which, installation of panel is effortless. Convenient to maintain, lightweight, and durable, the 250 MM Silver Star Pattern Wall Panel comes in range of finishes, patterns, grades and dimensions.
Specification
Row materials

pvc resin & calcium powder

Brand Name

sonsill or OEM service

size

Pvc content:30%-60%
Width: 15cm-60cm
Thickness: 4.5mm-15mm
Length: 2.95m or 5.95m or according to customer requirement

surface treatment

mat, glossy printing, hot stamping/transfer film printing, laminated

Features

1 Various of colors and patterns
2 High intensity, resist erosion, anti aging
3 Fireproof, waterproof, environmental friendly
4 Easy setting and cleaning

Application

Bathroom, kitchen, dinning room, living room, shop, commercial buildings,
Hospital, school, bar, hotel, restaurant... for indoor wall &ceiling decoration.

service

cielo raso pvc laminas de pvc para pvc panel ceiling for Colombia offers certificates such as BV, SGS, ISO9001, SUNCAP
HAINING CROWNE DECORATION MATERIALS CO., LTD.